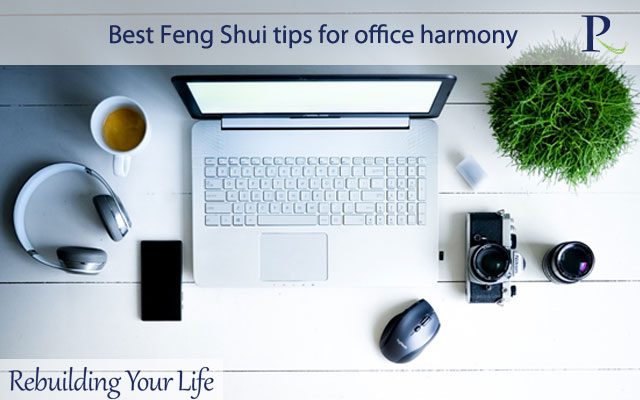 Thing is that paying attention to your workplace is quite essential, since we tend to spend a great deal of our time in the office. Hence, applying certain Feng Shui techniques that help both with comfort, wellness and harmony plus health is an idea you can't neglect.
So let's waste no more time and take a look at some hands-on tips that you can start applying right away:
Pay attention to the air quality – this is valid both for your home and your office. Studies show that air pollution tends to be far more serious indoors than outdoors. What can you do about it? Bring some lively plants to your desk, something that does not stand in the way of your work but provides some oxygen.
Don't be messy with your desk – and I know how challenging this might be the moment papers keep flying in throughout the day and keeping them in order is a real challenge. However, as the saying goes, a clean environment, a clear mind. Also, a clean desk bring sin more positive "chi" which attracts wellness.
Take care of your desk's positioning – if it happened to you, as it happened to me quite a few times, to have someone walking on you from behind and giving you a great scare, you know what I mean. If it's possible, try placing your desk so that your chair is facing a wall and you see the entrance door towards your office (or cubicle). If this is not possible, try placing a mirror on your desk so that you can spot the people approaching.
Give yourself space – I mean, you don't want to be in the situation that you can't move your legs freely due to all the boxes you stored under your desk. Also, we all know that the cleaning people don't use the nicest smelling substances, so you can brighten up the air with a hint of lavender spray or cleaning tissues.
Lighten up – we all know that trying to find natural light in an open space office is quite a challenge. And artificial light will have a bad effect on your eyes and you will feel tired in no time. If you have no choice to sit next to a window, try to go for a task oriented light rather than an overhead one.
Connect with your space – most of the time we don't work in a cubicle by choice but rather because this is our company's decision. However, instead of wining all day about how bad it is, try to connect with your space. Think that this is what you have so this is what you have to work with. Try to personalize your space without getting too cheesy, you can hang some pictures that mean a lot to you for instance.
These are just some tiny tips and tricks than can make your life at the office more enjoyable. Check out my article that talks about Feng Shui ideas when it comes to decorating your own home and bringing harmony into your life!