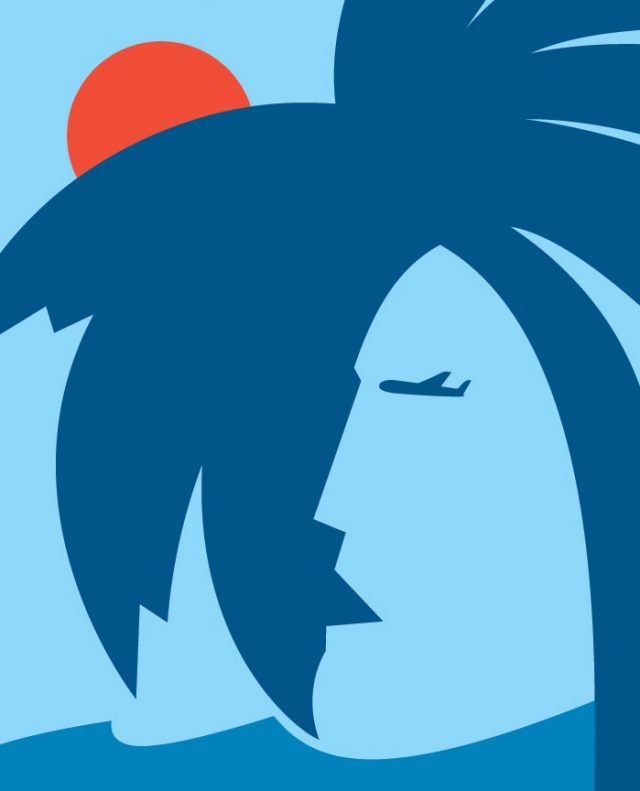 You be the judge: When a passenger's flight gets royally messed up, who's really responsible?
Washington, DC, dentist 
Eddy Gamson had always dreamed of visiting the Alhambra palace in Granada, Spain. When he signed up to attend a professional conference in Portugal in September 2013, he decided to head overseas early so 
he could fly to Spain for a few days. He called British Airways (BA) directly to book the flights for him and his partner, Lowell Canaday, cashing in more than 376,000 frequent-flier points for first-class seats. Gamson says he specifically discussed flying to Spain and outlined their itinerary using airport codes. The ticket agent suggested the pair fly from Dulles 
to London's Heathrow and then to Gatwick because, the agent said, there was a direct flight to Granada from that airport.
On September 8, Gamson and Canaday flew across the Atlantic and boarded their flight to Granada. However, 20 minutes into the flight, they noticed on the monitor that the plane was heading west, back over the ocean. They asked the flight attendant why they weren't heading south, toward Spain. "We're going 
to Grenada," the attendant told them. "In the West Indies."
You need a house sitter while you are away? Click HERE!


Gamson checked his e-ticket. There was no country listed, no airport codes, and no flight duration. There was just one word: Grenada—with an e instead of an a. After much back and forth with BA, it took two days and three flights to get 
the couple back to Lisbon, leaving insufficient time to travel to Spain.
 However, 20 minutes into the flight, they noticed on the monitor that the plane was heading west, back over the ocean.
On September 22, Gamson sent 
a letter to BA customer service explaining that the airline had erroneously booked Gamson and Canaday on a flight to the wrong destination. He asked to be reimbursed for their out-of-pocket expenses (extra flights, hotels, etc.), to be credited for the frequent-flier points they spent, and to be given two round-trip, first-class tickets from Dulles to Spain. BA instead offered to reimburse them for their hotel in Grenada 
and to give each man 150,000 
frequent-flier points.
"I was beside myself," Gamson says.
On March 7, 2014, Gamson and Canaday represented themselves in 
a suit they filed in DC superior court against BA, claiming breach of contract and negligence and demanding $34,000 in damages for "their ruined vacation trip, lost wages, and other associated expenses."
On March 28, the case was sent 
to federal court on BA's request. 
The airline argued that the Montreal Convention, a treaty that governs 
international air travel, protected the airline from certain claims that had been made. BA moved to have the case dismissed.
Should the airline pay for misrouting the couple? You be the judge.
Click HERE to find a house sitter!


THE VERDICT
In his opinion, federal court judge James Boesberg wrote, "This case proves the truth of Mark Twain's aphorism that 'the difference between 
the right word and almost the right word is the difference between 
lightning and a lightning bug.' Except here only a single letter is involved." He noted that the case was not about aviation law, as BA contended, and sent the case back to trial court. In July, BA filed a motion to dismiss the case, and in an oral order on August 22, 2014, Judge Jeanette Clark tossed it. "She basically said, 'I've flown before. I've looked at tickets. You're at fault,' " says Gamson. "We don't agree with her." Gamson hired an attorney and, in September 2014, filed a request to appeal. He's still waiting to find out if it's been granted. Last September, Gamson and Canaday flew to Spain—and "paid" for the flights with the points BA had given them.